Utility chains
We offer both cold- and hot-galvanised
chains and chains made from bare wire.
Technical parameters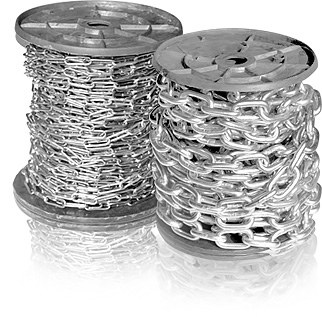 Wire diameter from od 3 to 10 mm
Our chains are manufactured according to the requirements of the following standards:
DIN 5685 A/C
DIN 766, DIN 763
PN-75/M-84540
PN-75/M-84543
Construction and application
Years of professional manufacturing experience of Mostostal Met is your warranty of superior workmanship. Mostostal Met manufactures cold galvanised, hot-dip galvanised, and bare metal chains. The chains can be used in applications for hoisting, fastening and handling of loads.
Technical parameters
Nominal diameter
d [mm]
Scale
t [mm]
Width
b1 min [mm]
Weight
≈kg/m
Ripping force
≈kN
3
16
26
5,4
0,165
0,15
2,80
A short link
C long link
4
19
32
7,2
0,30
0,27
5,00
A short link
C long link
5
21
35
9
0,50
0,43
7,75
A short link
C long link
6
24
42
12
0,73
0,63
11,50
A short link
C long link
7
28
49
14
1,00
0,86
15,00
A short link
C long link
8
32
52
16
1,30
1,10
20,00
A short link
C long link
10
40
65
20
2,05
1,75
31,00
A short link
C long link
Chains according DIN 763
Nominal diameter
d [mm]
Scale
t [mm]
Width
b1 min [mm]
b2 min [mm]
Weight
≈kg/m
Ripping force
≈kN
4
32
7,2
16,8
0,27
6,3
5
35
9
21
0,43
10
6
42
10,8
25,2
0,63
12,5
7
49
12,6
29,4
0,86
19
8
52
33,6
1,1
25
10
65
18
42
1,75
40
13
82
23,4
54,6
2,95
63
Chains according DIN 766
Nominal diameter
d [mm]
Scale
t [mm]
Width
b1 min [mm]
b2 min [mm]
Weight
≈kg/m
Ripping force
≈kN
4
16
4,8
13,6
0,32
8
5
18,5
6
17
0,5
12,5
6
18,5
7,2
20,4
0,8
16
7
22
8,4
23,8
1,1
25
8
24
9,6
27,2
1,4
32
10
28
12
36
2,3
50
11
31
13,2
40
2,7
63
13
36
15,6
47
3,9
80
14
41
16,8
50
4,4
100